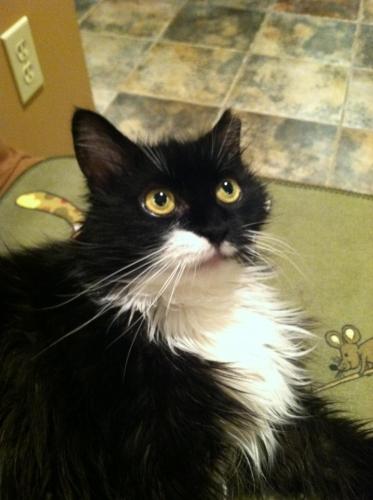 Chantelle, a rescue cat, looking gorgeous.
I met this lovely lady at the PetSmart in Paramus, NJ last week. Chantelle is a 10-year-old long-hair tuxedo kitty. Her foster Mom, Kim, told me the cat had a hard life and yet she is a real people-pleaser. Chantelle will delight in spending time with you, but she'd rather not have another cat in the house. Chantelle has a playful nature. You can
watch the video
of her having fun.
If you are looking for a wonderful companion then Chantelle is your forever kitty.
For questions, or if you would like to meet Chantelle, please call 201-797-8861 or email
startkayne@aol.com
Kim also said you could contact her directly at 201-739-7224. If you're interested you can come visit Chantelle at Kim's house.
Please note that the
Petfinder
information says Chantelle is 3 years old. However her foster Mom said the shelter has to update the information as the vet believes she is 10 years old.
More About Chantelle
Spayed/Neutered • Up-to-date with routine shots • House trained • Prefers a home without: cats