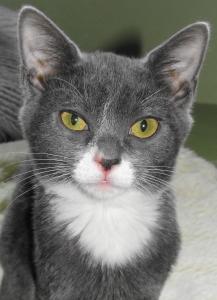 Rainey is looking for her forever home.
This sweet gray and white kitten was found alone in the rain and so she was named Rainey.
Rainey is an intelligent, talkative kitty who will enjoy hanging out with you. She is now living in foster care with four siblings (
Fortunato
,
Lenore
,
Roderick
and
Rowena
). Her foster family has four cats, two large female dogs, and two daughters (ages 8 and 10). Rainey enjoys being around other cats as well as dogs and people, but she is also independent and like to do things by herself.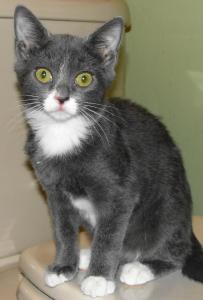 Rainey has a chirpy meow!
One of the cutest things about her is her voice: She has a happy, chirpy meow that sort of sounds like the noise a bird would make. If you chirp back at her, she will perk up and have a conversation with you!
More about Rainey
Spayed/Neutered • Up-to-date with routine shots • House trained